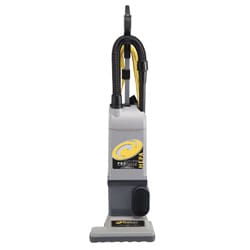 Meet the newest addition to our family!
Isn't she beautiful! This is the Proteam 107251 ProForce 1200XP HEPA and she is powerful!
Sleek and shiny with her own HEPA filter, this baby provides a deep clean. We haven't named
her yet, we're just calling her "the new vac".
The Proteam specs state that the "high efficiency exhaust filter and organically treated
Intercept Micro Filter capture up to 99.77% of dust mites, pollen, viruses, and bacteria 1 micron
and larger." With a 924 W Dual Motor, the new vac has airflow of 96 cubic feet per minute.
I know this is a blog and not an owner's manual, but we are so pleased with the latest addition
to our family that we can't help bragging a bit. We are committed to providing a healthier
alternative to traditional carpet cleaning methods and the new vacuum is going to help us
achieve that goal.
We take a natural approach to doing business and that means we utilize the best of what
nature has to offer. We will use the power of wind that the new vacuum provides to get
deep into the carpet pile and remove the loose soil, dust, and contaminates that are lodged
down inside the fibers. We compare this loose dust, soil, and contaminates to sand on the
beach. When our skin is dry and sand gets on us we can easily wipe it off, hence vacuuming the
carpet thoroughly while it is dry. If we are wet at the beach the sand sticks to us and cannot
be removed. This is what will happen to your carpet if the loose particles are not vacuumed
thoroughly. By not removing these loose particles first, even our powerful state of the art
cleaning equipment it won't truly clean the carpet. Whatever is left in the carpet gets wet and
sticks to the fiber like wet sand and gets left behind. That is the difference between "truly
clean" carpets using wind and water and "clean looking" carpets which is an illusion created by
less effective equipment, methods, and technicians. NewAge Natural and Organic Carpet and Upholstery Cleaning is always on the job making sure all these things happen and happen correctly.
Our first step to safely and thoroughly clean your carpet is to remove these loose particles.
Your first step is to give us a call.